For The Love Of Giving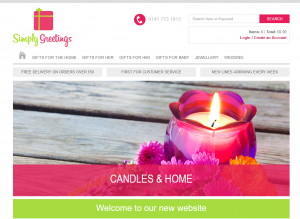 A fresh and bright new eCommerce website has popped onto the scene in the form of Simply Greetings, offering a wide variety of products from gifts for him, her and baby, to gifts for the home.
The fun design of this website echoes the funky and quirky gifts they have available and the colours are bold and eye-catching. The pinks and greens give a strong flavour to the website, which may have something to do with the fact that Simply Greetings have a physical shop that also incorporates an ice cream parlour. The colours are used very effectively to highlight key areas on the website and to point out the call to action elements such as'GO', 'SEARCH' and 'ADD' for add to basket. This clear message makes for an easy and consistent user experience.
When reading about Simply Greetings, you can see that customer service is not only a top priority but a passion. They have a love for giving and are focused on helping customers to find the right present for that special someone. This philosophy can be seen in their customer testimonials displayed throughout the category pages which helps to build trust for online shoppers.
The offerings from Simply Greetings are categorised into who the gift would be for and this helps customers to start with the 'who' (e.g. Gifts For Her) and then refine to the 'what' (e.g. Satchels and Bags) as the navigation menu drops down to reveal sub categories. If you are really stuck for ideas then you can select the top level category and then browse through all the products or use the refine by menu to select options like price or colour.
When you view a product page to read more information about the item you are also presented with larger images and a zoom function to see the detail. At the bottom of the products pages is a 'recently viewed' panel, that is a wonderful aid for someone trying to make a gift choice, as it stores the products you have viewed next to each other and creates a short list.
Overall this eCommerce website is clear and concise yet bold and fun and well suited to the gift industry.
Tags: Gifts, home accessories, jewellery