Made in Italy – Italian Shoes, Hats & Accessories
Made in Italy – synonymous with quality and fine craftsmanship, which is one of the main reasons why the owners of La Bella Donna decided to specialise in Italian shoes, hats, bags and accessories.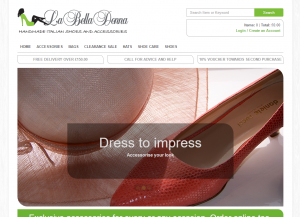 The newly launched La Bella Donna website is stocked with a range of handmade Italian shoes for women, Italian hats and fascinators for weddings and other occasions, and handbags and clutch bags from various Italian brands.  It is great to see an eCommerce website specialising in these quality items all sourced from Italy and showing real passion for the unusual products that are available now in the UK.
The crisp design of the website stands out with its bold splashes of colour and shows off the effortless style that these products have.  The large banners on the homepage highlight the detail and the clean finish of the shoes and hats and help to entice visitors to find out more.
A simple and effective navigation makes it a breeze to locate groups of items, whether that is summer hats or Italian boots or even if you are looking for a bargain they have a Sale category too.
After finding a product that draws your eye, the product pages have additional images so visitors can see the whole of the product from different angles and also zoom in on the image to see the textures of the materials up close. These features aid visitors in making a decision to buy along with La Bella Donna's own product review system, where you can give your new purchases a star rating out of five and leave your thoughts on their wonderful items.
The eCommerce website accompanies the La Bella Donna boutique located in Stockbridge, Hampshire where all the online products are also available for customers. Working side by side the shop and the website compliment each other perfectly. You can explore the range online and then visit the shop for a 'trying on session' or if you were spoilt for choice in store but have now made up your mind once home, don't worry you can still grab your pair of handmade Italian shoes or your Italian leather bag online and have it sent to you!
The website also offers visitors the chance to learn about the La Bella Donna story and how the owners started out, where and who they source their handmade Italian products from and keep up to date with offers and the Saturday Prosecco Club in store.
Finding an company that has this level of passion, personality and unique products is rare to see and it is definitely one to keep an eye on.
Tags: accessories, handbags, handmade, hats, Italian shoes, ladies fashion